When I started the Chronicles of Sammy Diva, I certainly didn't think this would be a post I would be writing.  When Coryelle Kramer came to visit, we thought it would be fun to talk to Sammy. She has become a guide since she transitioned. (so when she visits me as a yellow lab its particularly sweet and touching to me) Sammy Diva told us we would experience 7D.
Coryelle also led a meditation to open up our crown chakras to 7D.  During this meditation,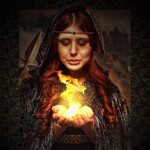 Goddess Brigit appeared. I have never worked with a Goddess before so my curiosity was completely piqued.
A couple days later a Goddess named Inanna appeared to me with her 2 lioness' . Then one night another Goddness Anoche appeared to me 5 times, by the 3rd time her face was completely in mine and she took her hands and put them on my shoulders and I felt a charge of electricity.
Sharing with one four Reiki Masters https://www.facebook.com/gingerphoenixreiki/ she said to me do you realize you have  been approached by 3 goddesses of war? At that moment I thought she would be the natural choice for our new Chief Counsel. My nights were filled with protecting children in different situations. I kept hearing this isn't the hunger games. I kept wondering what is up with children. 2 nights ago, I saw my two dragons shielding children and I knew some had not been saved. That very night Ginger Phoenix asked Brigit , and she said not all can be saved. (now realize that the both us are having similar experiences in another dimension and remembering in the morning that we were there together)
However, I actually started getting annoyed, I told the goddesses I understand there is a vibrational war and I can help anchor but what is up with the children? I am RFB.. you know animals… I was trying to understand why they chose Reiki Fur Babies for this job.
When I saw the channeling from AA Michael, it started to click. and click more. (Celia Fenn)
I asked again this morning why the children and the goddesses told me because they are innocent. Then a new Archangel came in named Clarrisa. (my other friend told me Clarissa meant clear and bright )
When I came upstairs I got a flurry of texts from my colleagues in LA.
650,000 children were went home due to bomb threats and 900 schools were closed .
My entire body was covered in goosebumps and I almost felt like throwing up.
The children.
I told Ginger Phoenix  and she felt the same as I did.  We both sent Archangel Clarrisa to all the children every where.
This morning I thanked the Goddesses for being with me, guiding me and I'm staying to open to what is next. (May I also mention that I had not eaten chocolate in years until they came in )