Introduction: In today's world, holistic approaches to healing are gaining popularity among pet owners seeking alternative methods for their furry companions. One such practice is Reiki, an ancient Japanese technique known for its healing properties. In this blog post, I would like to share my incredible experience with Reiki and how it seemingly cured my yellow Labrador's hip dysplasia.
Understanding Hip Dysplasia: Hip dysplasia is a common condition found in dogs, particularly in large breeds like Labrador Retrievers. It occurs when the hip joint does not develop properly, leading to instability, pain, and difficulty in mobility. Traditional treatment options often involve surgery, medication, and physical therapy. However, I was determined to explore alternative methods for my beloved four-legged friend.
Discovering Reiki: Being introduced to it by my brother. Reiki is a non-invasive therapy that focuses on channeling healing energy to promote physical, emotional, and spiritual well-being. Intrigued by its promises, I decided to explore this modality further, hoping it would bring relief to my dog's debilitating condition.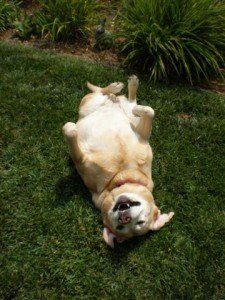 The Reiki Healing Sessions: Our first session involved creating a calm and peaceful environment for my Labrador, ensuring she felt safe and secure. I placed my hands on specific areas, using light touch or hovering techniques, to allow the healing energy to flow through my dog's body.
The Effects of Reiki: After a few sessions, I began noticing subtle changes in my Labrador's behavior. She seemed more relaxed, less anxious, and exhibited increased mobility. Gradually, she started using her affected hip more frequently, and I could witness a visible improvement in her overall gait.
Reiki's Holistic Approach: What amazed me about Reiki was its holistic approach to healing. It didn't merely address the physical symptoms of my dog's hip dysplasia but also focused on balancing her energy and promoting emotional well-being. This comprehensive healing approach created a positive ripple effect on her overall health.
Continued Progress and Healing: As we continued with the Reiki sessions, my yellow Labrador's progress was nothing short of miraculous. Over time, her hip dysplasia seemed to fade into the background. She was able to run, play, and enjoy her daily activities without any noticeable discomfort. The radiance in her eyes and the joy in her demeanor were undeniable signs of the profound healing that had taken place.
Conclusion: While Reiki may not be a conventional treatment option for hip dysplasia, my personal experience with my yellow Labrador proves that alternative modalities can sometimes offer incredible results. Reiki provided my dog with a renewed lease on life, alleviating her pain and allowing her to regain her mobility. It is essential to consult with a trained Reiki practitioner and your veterinarian before pursuing any alternative therapies. However, in my case, Reiki undoubtedly played a vital role in transforming my dog's life, and I will forever be grateful for this remarkable healing journey.