Mom decided to give Sportva the gift of being attuned even though she was so advanced in age. What it did was AMAZING.
If you need to catch up here's Part 1.
During Sportva's attunement interview she shared: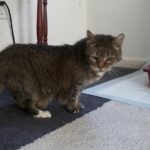 Sportva said This has been BETTER than any visit to the Dr Vet because Sportva is in charge of Sportva. What a priceless gift Mom has given us both. Mom was able to think outside of normal boundaries and took a path that led Sportva to this gift. Reiki healing energy has been Sportva's way to find harmony with the body and soul. It has strengthened Sportva's body . this is a process and Sportva will continue to practice this forever 😉
Mom shared:
I know it can't keep her from taking off her cat suit, but it makes me feel better. I love that she
knows that she herself is "forever."  Maybe she can help me know that, too.  I see the reiki attunement as sort of a parting gift. I want her last months to be as happy and as comfortable as possible for her. I want her to feel powerful and special.
The Vet said: He said she's happier and there's no fluid in her lungs and there is no heart failure! 
If you ask me, that is a Reiki Miracle !!! I love that the Vet could see the effects of Reiki energy healing!