Hi, Ming.  It looks like Sportva has cancer.  Can you send reiki to her? I feel powerless.I would like to know what Sportva wants. Is she ready to take off her cat body? 
I know she's an old lady cat and I love her so much…we thought she had congestive heart failure because of the way she was retaining fluid, but her heart is okay!  She has kidney failure, but not anything worse than is normal for a cat who is almost 21.  She's been at the vet all day getting x-rays and ultrasound and the doctor found fluid under her lung and says he thinks she has cancer.  I am asking for a miracle if Sportva wants to heal. If she does not want to heal, I am asking for her peaceful and joyful transition, and the strength for myself to deal with it.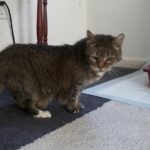 As we sent Sportva Reiki, she shared:
Sportva said Sportva feels Mom's sadness. Sportva is not unhappy because Sportva's body is worn out. Cancer, heart, lung, broken bones. these are all attached to this body. Remind Mom who really is pretty and very smart that is Sportva's soul which will NEVER have anything but JOY. Sportva lives each day joyful and peaceful so Mom's wish has already been granted. 🙂 Sportva will always be connected – heart to heart- soul to soul Mom. The richness of life is in memories . Mom you will always have. Mom will take care of Sportva and Mom are in charge so be brave.
Next day: Sportva is so much better this morning that I can't believe that putting her down already was even a thought!
Reiki + a good veterinary doctor = the miracle I hoped for yesterday!
Then days later: Sportva is soooo much better!  She even made regular sized poopies two days in a row!!!!
She's eating like a champ, tolerating me shoving pills down her throat and giving her shots,
and she purr purr purrs when I cuddle her! 
I am so relieved!  The way she was last Monday…she seemed ready to take off her cat suit.
That thought did NOT feel good.  Not that it would ever feel good to think that, but the thought of
putting her down didn't feel right.