I was thinking about Marina and all the wonderful practice she had been putting in using Reiki with her hands.  Her experience meeting Kennai- fox spirit animal- came back to me. All the things that Candy wanted her to practice such as sending healing, healing with intention all involved Reiki 2. So after talking about it – we decided to ask Marina's Mom what she thought about Marina getting attuned to Reiki 2.  This is where all the magic is . 
Here's Marina's experience: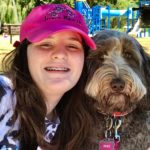 Hi everyone! If you haven't read my other two blogs you should!!
This one is all about my second attunement! I first prepared in a nice lavender salt bath again and performed some Reiki on myself. Then I colored with my mom and then it was time for bed.
I laid down and said the words to start the attunement. My body got real calm and I started  relaxing! This time I didn't see any colors but I saw Kennai's face for a minute! I felt my 3rd eye tingle and  my back started to tingle! Also my hands got really hot. Then I was just to relaxed to stay up and fell asleep! Thank you Candy and Ming! Hope everyone enjoys reading this!
(Marina's Reiki 1 Attunement experience is here. )