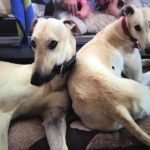 Connecting to Wolfie the greyhound for idiopathic seizures. When we connected with him here's what he shared:
Wolfie said Wolfie is not aware of what where or why of these little episodes. Mom brings all the best healing and this new helpful and beneficial technology to work on Wolfie's recovery .. Wolfie knows that today is what Wolfie has so Woflie is present and grateful for today and leaves tomorrow . Wolfie tries to not interrupt Wolfie's concentration on today. Wolfie knows the Wolfie's body sometimes has cross signals going off here and there. There are no guarantees on each day. NO regrets. Just happy and grateful for all the moments with Mom and Lady Grey. The guardian angels are so awesome Mom.  Thank you. Surrounding Wolfie with love.
Wolfie really enjoyed the session and soaked it all in. Wolfie, Lady Grey and I gathered in my meditation space/office in front of the Buddhist angel Tara thangka.
Wolfie settled in right away and relaxed deeply into the session.  After about 25 minutes he jumped up to go onto the couch.  Lady seemed to love it and became so playful!  We all felt the presence of the healing angels.  Thank you so much for your beautiful connection to spirit and helping us to connect to their amazing energy.