This is Edith. She is one of four kittens my son brought home last summer from work when their mother was killed by a car. They were maybe two weeks old and we bottle fed them and were planning to find homes for them. Finding homes didn't happen. Cats are, unfortunately, a dime a dozen here and the only homes offered were for outside cats which I didn't want! I've always cared for the feral cats around my neighborhood but I have mostly been a dog person so this has been a learning experience for me.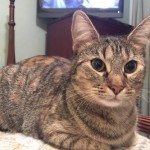 They've had wonderful veterinary care – spay/neuter, vaccinations, etc. but in the past week or so they started having accidents and I noticed some coughing. Edith went to Dr C ( vet) and has a high fever, respiratory infection and bladder infection!! So they are all being treated with antibiotics.
I just feel like something is off. They do live in the house and stay in their bedroom while I'm at work or out of the house. They have toys and beds and clean litter (I am very careful to keep everything clean). And, of course, plenty of food and clean water. When I'm home they have the run of the house and as much attention as I can give them. I have two dogs in the house, one of whom helped raise them and the other is a foster that they seem to adore.
Questions I would ask: 1. What can I do to help you feel better? 2. Is there something I can do to make life in general better for you? 3. Is there something wrong that Dr. C didn't detect?
Are those good questions? If not, please adjust as you see fit. I can't put my finger on why I am troubled about them.
Again, thank you so much. Hugs!!!
When we connected to Edith: she shared:
Edith said Edith is confused by the pills and Edith's body not feeling good. Edith didn't receive any signal that there were problems within so its beyond Edith's understanding. Edith will stay calm and surrender to the healing. Edith cant remember when or why Edith became ill. Mom always takes care and does what is needed out of love and kindness. Now Mom has send Edith a guardian angel to be with Edith always . Edith will be surrounded with Edith's angel and now every one can relax.
we told Edith that the pills are to help her feel better. She doesn't have any awareness or insight into it. She is connected to you soul to soul and expresses gratitude towards your care for her.
We heard back from Mom :
Dear Ming,
Thank you so very much! As I walked into the house it was immediately evident that the energy had changed. Peace reigned. And, I knew you had helped Annie and Pongo too! (the dogs). Usually when I walk in from yoga the animals are very anxious as I am late getting home. I go straight from work to yoga. Even though I go every week a change in routine is tough for them. I feed the dogs and while they eat I feed the feral cats outside then I let the kittens out, clean their room and feed them. Usually they are meowing and making noise, urging me to hurry. Today it was completely silent. When I opened the door they ran out but without the usual urgency and Edith especially was more interested in being petted than eating.
I'm not surprised Edith didn't understand what was going on. The kittens are so young (8 months) and sheltered. They couldn't possibly know even what sick is. Life has always been gentle to them. Having Angels with them gives me so much comfort Ming. You are wonderful.
The gloom I've been feeling has lifted. And, I am supposed to call the Vet to give a report tomorrow. She is amazing and will give them the best of care. There were no accidents either by the way!
I will keep you updated on their progress but I now feel the healing is really underway. The antibiotics may be making them feel a little worse right now, but I know that's part of the process.
Much love and hugs to you!