How fun to be able to say I have a dragon~! Several years ago when I was going through one of the toughest times of my life, Doremus appeared. He sat on my shoulder often when I was working in the cubicle keeping me company, often warm (since it was so cold in the hospital) . Later on he grew larger and larger and often I saw him standing side by side with me every where I went.  Which led me to this picture that I have put on my phone for a few years.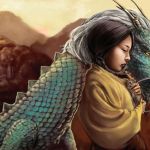 I brought Doremus into all of our Reiki sessions, he is an awesome healer. He also visited and helped to heal many of my friends. Many of my friends could "see" him as well (which I learn later on is a rare thing!) The fire he breathes surpasses my comprehension! I am grateful to have him by my side.
My wonderful friend Rhonda Riegel (aka Intuitive Alchemist & Curator www.intuitivealchemyshop.com ) gifted me with this dragon art.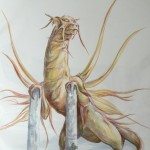 First time I saw it , it took my breath away. I thought is this Doremus. He felt the right color.  Then I learned that I got a reading to go with the dragon~! Rhonda told me she had given my picture to the artist and he could then see my dragon.
I was excited to meet Rob Carlos (Rob Carlos Fantasy Art – though let me assure you there is no fantasy here ) as I did not receive too many in person readings. I took the art with me and we sat in 2 comfy chairs. Some things he shared with me about dragons that I did not know:
Dragons like to choose interesting people . They like to watch the journey … they can see the entire journey of a person and will often give advice. Sometimes they leave a person to go to a more interesting person. Dragons usually don't allow others to see them (though he was surprised to hear that Doremus visited my friends and family)
The color of the dragon is because I am a healer, he said it was like a shiny gold. Now he had no idea what I did yet.  (what is very cool is that Candy can see auras and always told me I had the colors of a peach around me- similar as to the dragon art)
He said he right now he has no wings because I have been doing too many different things, he wants me to focus then I /he will fly! (though of course Doremus can fly when he wants) I told him that is true, I just left my pharmacist job and moved here and letting Reiki Fur Babies shine!
He said I can I can hear with out speaking. He said you have a lot of people that depend on you. He said its not just your family I feel an entire community needs you to be a stabilizing force (then I told him about our Reiki Fur Babies Facebook page! He said I can tell people what they need to hear…
The tiny discoloration on the dragon's neck is my thyroid. Well that is true too as I'm taking iodine now for my thyroid! I didn't know it was going to be a medical reading for sure. I love that Doremus is watching over everything about me!
The mask on his face he told me he had no idea and had NEVER seen it. as we keep talking, he couldn't believe that everyone we attune to Reiki gets a dragon.
THEN at the end of the reading it came to both of us. I'm getting a NEW ABILITY… doremus' mask will reveal it.  The stone rods the dragon he is holding are my egyptian healing rods. I told Rob that I have those and a laser rod that I use in our healing sessions.
Doremus uses them as he is a healer!!!!! What an awesome team I have.