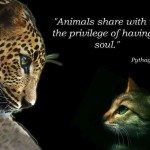 Why Reiki Fur Babies is not attached. Over the years people have tried over and over to post an abused animal on our facebook page or email it to me. Seeing these pictures only hurt my heart which actually which I learned later on blocked my ability to heal effectively. I had learned that if people did send me a picture or write me some horrific story I would not look at it nor would I read the picture. When I started doing that the healing that we sent became profoundly strong. I realized I was getting in the way. This is not to say that it is not your calling . There are many people out there standing up for animals' rights and I think that is wonderful, laws are changing, awareness is coming more and more to the surface. But this is not how we choose to go. People that have been following us know we will not post those kinds of pictures.
Over the years I have worked with the angels as well. When I ask them for their assistance and I get out of the way is when I hear of the most amazing miracles. Witnessing this over and over has taught me to not be attached. This is what we teach our Reiki practitioners that come to learn from RFB.
After the interview went out with Dr. Doolittle, Val Heart I received many emails about this very subject. So I thought I would post another blog on the subject.
It also occurred to me that my other hat I wear being a pharmacist does not make me less of a healer because I'm not a surgeon. Everyone has their expertise. I personally could not do surgery , I actually don't like looking at blood. But over the years in my career I have had many a physician tell me thank you, you saved me. Countless times I would re do the dosing on a patient that would be the best of the patient's kidneys and liver. So we all have our part in service.
For those of you would who do the Reiki attunements with us, we will help you stay grounded, not be attached and be a part of amazing healing of all beings!