Years ago I started working with the angels and Archangels… and I still do. Both Candy and I work with them every day.  As you know I also work with many spirit animals. They certainly have really been exciting to play with. I have on my team now besides the wonderful Sammy Diva, a pegasus named Storm, a blue lion named Bo, Sophie and Mochi which are amazing cats.  I also have the fairies that I have learned a lot from. They work fast too. I have seen them do many magical things. So along with all of these wonderful beings I now introduce you to my latest member of my team, and yes, he is a dragon!!!
I have been working with him now for several months. I decided to work with him just intuitively not to read up on what others were saying about dragon energy but to have my own experience. He is my personal dragon, just like I have a personal angel. In the beginning he would just sit with me, warm my shoulders.  Perhaps I was just getting to know him. Then I started to ask him to help with several things.. and he would, and he's incredibly fast. I thought the fairies were fast! He's amazing. His amazing fire is so powerful , yet gentle and healing. I have even asked him to help heal myself especially in stressful times. The last several Reiki sessions with clients he has come and asks to assist. I am so proud of him. He is a part of me now. He likes to clear spaces and areas of which I reside or work in. I was looking around pinterest one day (you can see my Dragon board there if you are on Pinterest) and I came across this amazing picture which just felt like Doremus and I.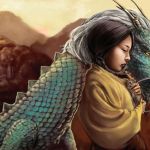 I love it so much. I'm happy to share with you all about him. Doremus can change sizes, sometimes he's small sometimes he's huge. Sometimes he is green but he can be white too.
If anyone else has a dragon, I would love to hear about him or her!