Fur Baby: Kitty
Age/breed: about 7 mos. Tabby
How long have you had pet?: About 4 months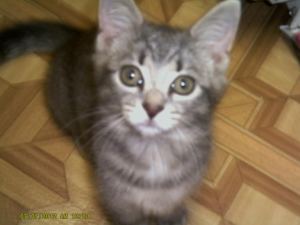 : Yes, my fur baby has had a previous session
Purpose of Attunement: She gets Angel Reiki from me and I would like to have a deeper bond with her understand her better and maybe work as a healing team a little bit.
Kitty said Kitty knows stuff, lots of good stuff too. Kitty is fascinated with how this healing energy works. Its wonderful Kitty does healing on Kitty to become more clear. Then Kitty wants to help Mom with energy healing so Kitty sits close. Kitty believes this is so important to help Kitty , Mom , Kitty's home and environment and the whole world to become more balanced! This healing energy helps avoid all the confusion from in and outside ourselves!
 Lots of feedback from Mom:
Kitty is practicing. She gets quiet and sometimes goes in another room like she's focusing or she will sometimes get in our blind over our balcony door and sit quietly for a long time. I've seen her sitting quietly looking right at me or lying quietly near my feet.Somebody is the cutest healer I've ever seen!  I've had a tough day and whenever things have seemed toughest, I will look up and somebody cute will be nearby doing her Reiki to help!Sweet!  Was lying on floor over from my feet for about 15-20 minutes then all of a sudden sat up like she was looking at someone with her head up.  After a while she drank quite a bit of water and then went to the bathroom twice.  After a little bit she came back out and was dancing, playing on her hind legs!  At first like she was almost dancing with someone then I got the impression she was playing. ( When we play with her toys or paper wads I throw them up and she jumps up on her hind legs and catches them with her front paws.  Cutest thing I've ever seen unless she's sleeping, she curls up in a little ball and is adorable!  I have many, many pictures)!

We had a plant disagreement yesterday. She dumped my plant on the floor! I repotted it and in a little while she was lying on the floor in front of it being very quiet like she may have been working on it. She's the cutest little healer I've ever seen! Just wanted to let you know Kitty is using her Reiki! I was having a bad dream this morning and she sensed what was going on. She turned her Reiki on and lay down next to my head. I just felt so calm and peaceful. And thought that was so sweet!! She's amazing!!
And even more from Mom:
My little healer has been at it again!   I was having a bad dream in the wee hours sat. morning and Kitty jumped up next to me and wrapped her little body around my arm and turned her Reiki on.  She's amazing!  It usually takes me a minute  or two to kick in when I'm experiencing something like this and turn mine on and here she was already on it!  She has also been sitting in the bedroom window or in front of our balcony door doing healings of all kinds from there.  We live in an apartment complex so she has plenty of opportunities to do her thing!  I wouldn't doubt that I have been Reikied getting in and out of the car!