I have to say this is one of my most favorite attunements. It was so wonderful to connect our foster elephant Olare.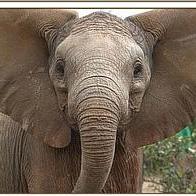 I was sharing with Coryelle that my bond with her is almost like the one I have with Sammy Diva. Its so strong and intimate. The nature of the elephants is so touching. Knowing Olare was so excited to share in this attunment warmed my heart as well. As they all raised their trunks in praise and can now heal , what an amazing blessing! Tears just flowed in this attunement for the connection that I felt with them.
And yes Sammy Diva joined in as well as all the Archangels. Truly a blessed day on 1/11 !!!
Here is the message we received from the elephants:
Elephants say this is filled with such love, beauty and joy. What promises of the days to come. All of our energy has been recharged and now new perspectives. We all feel the glow and warmth of the possibilities. Or families have expanded to include all. Our trunks are raised in a hallelujah !! to all and praise to God for bringing you all to us with these gifts that we can now share. These are pivotal moments in our world and we are all grateful you came and chose us. This knowledge is a wondrous source of power for goodness all over the Universe. What richness ahead for us all!!!!
Also want to thank Reiki Master Diana Tootell for attuning the elephants in the circuses!
My focus went right to the elephants in circuses, zoos…the ones that aren't "free" as humans say. Their message:

We are not trapped, we are not physically here with our bodies during the difficult times. Our spirits are always free. We dance with our brothers and sisters all over the world and even our ancestors. We rejoice that you have not forgotten us. God has His hand on all of this…humans make very poor choices that are not for the good of all like animals do, but that is how they were made.

 

They will know all, and be with us, and there will be peace and love. For now, we accept the humans and love them.

Sammy Diva was a fireball looking over this attunement. I sat with my boy Rudy and we could both feel Sammy Diva with us. Thanks!

I am crying right now…I saw this video after I had attuned the elephants and written the blog. It just affirms everything they said. This is so profound. Wow. They really are communicating to me. This is so beautiful.

http://www.wimp.com/elephantsreunited/