This weekend was a particularly difficult one for me. I was sitting at my computer when I heard Sammy Diva who was laying in the hall struggle to get up. She tried , then tried again, and I heard her cry. Within seconds I was up and she had forgotten that I was home. I held her and helped her up reassuring her that she was okay. Immediately I got every bathroom carpet and other carpets I had to line the hallway where she liked to lay. She was slipping on the tile and couldn't get enough traction. It completely broke my heart . Its been difficult watching her age. I have had her with me since was 2 years old. We've done many things together and she has inspired me to be where I am today.  She is now 13 .
She's the entire reason I learned Reiki and she is the reason Reiki Fur Babies is here as well.  Reiki cured her canine hip dysplasia many years ago. She has taught me so much over the years and has comforted me countless times. When I told Candy about what had happened she reminded me that she did right by her boxer Ry who requested to not be on chemo and lived in his physical body to only 5 years old. That of course the quality of life was important. Sammy Diva has so much dignity, and even though she lets me wipe her bottom, I will allow her dignity as well. She is one proud girl.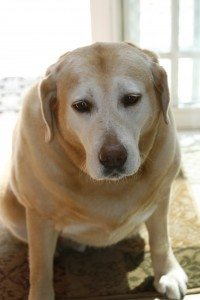 That night I laid down next to Sammy Diva and promised her she would never suffer. I would not keep her here just for my selfish benefit if I thought she was suffering for a second. I love her too much for that. She listened and gave me a kiss.  I know that our souls will forever be connected. She is a treasure that I will always have so much gratitude for. We'll go on this journey together.  I love you Sammy Diva.