Sammy was in a class all by himself this week. But it was fun. Sammy picked up on things very fast.  His Mom said he talked about it being a "download" of information which was really cool.
At the end of the week, we connected with Sammy and this is what he shared: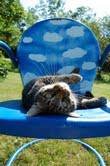 Sammy said Sammy feels like the big cat on the block. The Super Cat with super powers living with Wonder Mom. Sammy and Wonder Mom are unbeatable healers. Team A- Super Sammy and Wonder Mom. Yes, Sammy got "IT!". Heal thyself and then Sammy will ( if its okay with Mom, ) the Universe!! Ready, Team Sammy!!
From Sammy's Mom:
Regarding Sammy this is what unfolded for him last night
HE wanted t be outside when it happened so I let him about about 20 minutes to 9
He hangs out on the porch for a little bit on his cat hammock. then at about 10 minutes to 9 he walks down to a pine tree that's close to the pond. at 9PM he walks to his favorite spot the bridge that is near my pond, walks to the middle and sits down. I stay on the porch connected to him asking he if he was ok and if he wanted to come and be with him. He said "no, I'm fine, not yet" So I stood on the porch for about 8 minutes and he stayed on the bridge.
I should say that when I connected to Sam I heard his voice clearer than I have ever had before. It rang in my head strong and clear so I already felt him changing. Our communication was being put on another level. You know how sometimes it can be hard to hear your own animals, now that doubt is gone and I know that I will hear him clearly from now on.
So Samy sits on the bridge for a while I brought a clock out with me and at 9:15PM he says "Come down and be with me" so I go down and I look at him and notice that he is way more attuned to every single tiny sound that is around him. He's hearing everything, his ears and heard kept swirling around at the tiniest of sounds (like a drop of water hitting the pond or a bird. I just stand beside him and keep him company. I hear him say "do you hear all of that?" I tell him I also hear many different sounds and yes I hear a lot more than I ever did before. He says "I hear the world, I hear her breathing". Then he moves for the first time in a while and comes and moves from the right to the left of me rubbing himself against my legs as he does. Then he moves back doing the same thing. We stay there for a little while longer and he says "I see things so much more clearly now"
Then after I little bit I hear the words "it is done" (not sure if it's coming from Sam or someone else) and Sammy tells me we can go and we both climb up the little hill back to the house. I'll keep you posted on his unfolding.
More from Sam's Mom later on:
Sam (my cat) and I had a long distance reiki session for a client, first time ever, since both being attuned to Reiki Master. It was astounding! I know this is going to sound weird (and I don't care )
but as we began; I felt Sam's soul come through my heart and combine with mine, it was deep and profound soul connection (and believe me, our connection from day ONE was pretty darn deep and profound already) When the souls touched. it effected the power coming through my hands, it felt like it quadrupled! "Whoa!!!", I thought "we are going to do some amazing and powerful healing work together!"
Thank you Ming & Candy of Reiki Fur Babies for making this happen!