Chelsea: 17 yr old mule.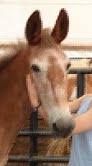 She was used for raccoon hunting- owners shot off of her back and she was trained to jump over anything and run through any trail.  Owners loved her but couldn't care for her anymore.  She has been at our farm for 2 years.  She is quiet except when she gets to know you, then you cannot keep her quiet!  She brays when I get to the farm, when I leave, if she hears me talking to any of the other animals….She reminds me of Kelsie.  She is VERY smart and can be very stubborn.  She has learned so fast, it is almost like she knows what I am thinking before I even ask her and she does it.  She is great to ride.  She is very affectionate but only with people that she wants to be!  I think she will be a good healer because she gets along well with all of the animals and people and is very attentive and interested in everything.
Chelsea said Chelsea can feel everything coming to Chelsea. This is a wonderful gift from the kind Diana who Chelsea feels so connected to. Diana has always spoken to Chelsea with love and respect. Chelsea speaks to Diana the same in return. Chelsea has practiced every lesson on every one. Chelsea believes Chelsea will be able to really help so many others who need healing and have no one. Chelsea the "wonder mule" is here to end pain and suffering, give joy and gladness. Chelsea was on a roll there but really Chelsea really cares about all the creatures on the earth. Chelsea really finds so much comfort and kindness here too. Chelsea has been using the healing energy to relax and stay at peace within. Chelsea likes to ride and play here too. Chelsea knows that the farm can be transformed with this healing energy Chelsea will be using to aid and assist those in need.
What a big heart Chelsea has. It was our honor to work with Chelsea. What a gift Diana gave to Chelsea.
Mom says: Chelsea is so sweet.  She gets in these moods where she just wants to be alone with the other horses in the herd.  I always thought she did this because she didn't want to see me, but now I know she does this because she is helping the other horses!  She gets so serious when she is in the middle of the herd, she won't even look at me.  Other days she hears my car and runs over braying.  I have had many "talks" with her like Smokey.  I sing to her too.  She loves that.