Dear sweet Bella my foster baby needs lots and lots of calming and comforting angels to surround her as she prepares to go to a furever home. I actually have a family that are good friends coming and spending an hour or so at my house every day trying to get her to be calm around them as they are seriously considering adopting her.
 
She tries to hide every time someone comes into the house. This alone will make it very difficult to find her a family that will love her. She needs to be reassured that not all people are bad and that some are actually trustworthy and loving.
 
So the focus for Bella will be on her emotional state of mind to help her with the transition of meeting people and the eventual transition into a new home.
Bella said Bella was afraid when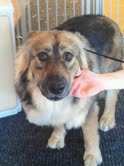 Bella first felt the healing energy through Rogue's session then when my best buddy Zion was having a Reiki experience Bella could feel how safe and wonderful it feels here. Bella knows knows there is even a better home for Bella because it will be Bella's FOREVER home and that it will be filled with love and kindness. Zion is so covered in Mom's love that Bella wants to get close to Zion and absorb even more of it. Yes, Mom, has some nice people coming to meet and be with Bella a lot. Bella likes them but Bella loves this home and yes Bella knows the difference. Mom keeps reassuring Bella that there are more kind people than bad people. Bella just loves and trusts Mom. Whatever Mom says is the truth for sure!
From Mom: Well it was evident when the sessions started although this time Rogue stayed down in the massage room as did Bella for most of Rogue's session. She did come upstairs about half way through the session looking a little nervous. I explained that all was okay & she had nothing to fear & she seemed to calm down & went back downstairs. She came up briefly during Zion's session & just stood beside him by the couch. It is easy to see that my Zion is feeling under the weather as he is very subdued. After his session & before Bella's was done he started barking at me like he was trying to tell me something. I got a little impatient with him because I try to keep things peaceful during their sessions. I think he was trying to tell me about the attunment you gave him & just could not wait any longer to share the good news. I am glad Bella recognizes that the people who come to see her mean her no harm & that she also realizes that this is temporary & that her fur ever home is out there & that we are going to find that special family that will love her always. She really is a love and I am glad she is beginning to feel secure & safe here.
Foster Mom said few days later : Bella is spending couple hours with the friends who are tinking of adopting her. The texts Im getting are all positive and she is hanging out with them in their family room and has not tried to hide. Yippeeeeee