Had Distemper and pneumonia and mange after being in Kern shelter.
Questions to be asked: Are his lungs ok after pneumonia?  He tires quickly with walks… Does this reverse breathing thing at times like he did when he was sick.
Zak said Zak i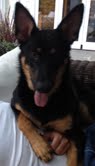 s so excited to have more attention! Zak loves feeling all the loving and positive energy blanketing Zak. Zak gets all wound up and excited on walks and feels a race running inside Zak's mind- of emotions- yeah! Hooray for Zak! Zak is a champion! Zak is the winner of everything! So with these messages racing in Zak's brain it is no wonder Zak's body is exhausted after each walk because Zak is in an internal race….. FUN!!! Zak always feels very loved and cared for. Today and treats make every part of Zak tingle with delight. Mom sending Zak this awesome guardian angel is WAY COOL Mom.