Oscar my kitty, is and in and outdoor cat and he hasn't been home since yesterday morning.This is not like him to not come in out and sleep inside at night…I've been up all night and now I just since something has happened…are you guys able to see in Reiki if he's ok?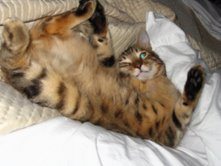 As we connected with Oscar, Oscar was sleeping when the healing began. Oscar then looked around and seemed a bit confused. Oscar is tired but not in distress. We told Oscar to go home, Mom misses you. Find your way home Oscar. Oscar go home. We asked the angels and Archangel Michael to assist Oscar in going home.   Oscar then said ok, Oscar will go home. Oscar was laying in some green grass and foliage. Oscar is up and moving and wants to go home. (Mom asked is this green grass in heaven, we told her, no it did not appear that Oscar had crossed over)
That evening Oscar was still not home. We asked Archangel Michael to protect Oscar and bring him home. In the morning, I asked Mom if Oscar was home. No! This time I asked my own guardian angel Hannah who helped bring another kitty home that was "stuck" somewhere home. Within a 30 minutes, Oscar was home! He had thorns in his fur, his collar was gone and worn out, but he was home. Mom said her heart was lifted!
We are all so grateful for the angels to help us with Oscar!