While Candy and I were up in San Francisco celebrating Candy's birthday, we got this email.  We certainly were not turning her away.
Could you help in healing our 13 year old lab, Amber. Early this morning, Amber had  emergency surgery to address a twisted stomach that threatened her life. She has survived the initial surgery (which was a longshot) and is in recovery in intensive care. I am wondering if you could provide additional support for her healing…quickly.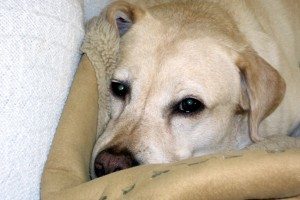 As we connected with Amber, Amber said Amber is so sore and tired. Amber feels woosy too. Healing energy is why Mom and Dad brought me here. Amber likes this vibration of healing because it is calming for Amber. Amber would feel very good if Amber had an angel by Amber's side. Amber thinks having an angel to love and protect Amber is awesome. Was this Mom's idea? Amber doesn't know really why Amber got so sick. Amber feels pretty sleepy now so Amber and the angel are napping now. We heard back from Dad:
So far so good. Amber is hanging in and doing well. Your angel friends seem to be helping her! If she keeps improving, we'll likely bring her home tomorrow…and then the next two weeks will be important…so please keep the healing energy flowing!
Then , the next day the good news came :
Yes Ming! She is home with us. Two weeks of healing and she should be ok. Please keep that healing energy flowing…and thank you so much!