Here's the email we got from Mom:
Licorice has been much more frisky since his last session with you!  I would even say more bold.  This is great!  The only issue is that we have a few feral cats that hop up onto our balcony that stir the pot!  Mostly, Licorice and Coconut handle this as well as any cat would.  (I tell them these cats are welcome and they are still my special babies.)  But a few weeks ago an equally frisky feral got Licorice really mad and he went berserk.  He attacked Coconut ferociously and went to bite me when I tried to pull him off poor Coconut.  I had to push him out of the room with my foot and shut the door.  It was so dramatic!  It's rare but usually Coconut picks the fights.  But when Licorice does he clean's the floor with poor Coconut.  That was worst I'd seen it.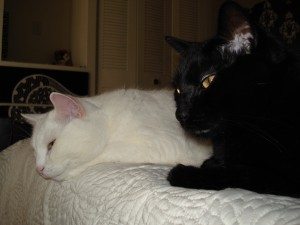 Coconut was so shook up and for a while and kept looking at me like What the heck happened?!  I only found one teeny scratch on him and think he's recovered from that.  But for the last couple weeks has been very weird!  Probably unrelated.  He's insistent on playing!  Like some sort of protest!  He sits by his sparkler toy waiting for me to do something with it.  Constantly!  Like a marathon.  And he makes a little mrrff mrff noise.  He's even passed up some of his wet food dinners so he can sit by this toy, waiting for me to come around so he can pounce.  I do take him up on it as often as I can but he seems so frustrated and unsettled.  I really don't know what I'm supposed to.
So bring on that healing!
We started with Coconut since he's the one that got "attacked":
As we connected with Coconut, Coconut said, Coconut feels the vibration of you coming before you even announce yourselves. Coconut was involved in an altercation with Licorice recently. No, Coconut did not incite this incident, a visiting trouble maker stirred the brain waves in Licorice's brain and then next thing we know Coconut was fighting in place of the trouble maker. Mom, Coconut and Licorice's protector jumped in and stopped the madness. Mom was and has been pretty shook up over this altercation between Coconut and Licorice. Sympathy lies with Coconut, so being as smart as Coconut is , Coconut is using this as much as possible. Mom does want to make Coconut feel better so play Mom play with Coconut
Then Licorice: Licorice said, Licorice has been absorbing all this healing energy long before you arrived. Yes, Licorice knew you were communicating with Coconut . Licorice just soaked in all the healing until it was Licorice's turn. The fight came up and Licorice can only explain it this way: crazy! Licorice, not being human cannot understand brain function. But Licorice knows signals came into Licorice's brain that were so strong that made Licorice want to smack that bully away. Next thing that snaps in Licorice's brain is Mom's voice, hands, lots of anger at Licorice. Okay Licorice gets it, but Licorice was not in control of the demon that came to incite the riot. Its all cool now except Coconut thinks Mom is Coconut's play thing.
What a smart cat Coconut, he's certainly milking the situation. We all had a pretty good laugh. Mom said :
I just cracked up!  That is too funny.  That Coconut is milking it for all it's worth and Licorice is onto him.  But I wasn't so sure!  I could see Licorice was even surprised by himself during that fight and he is so sweet.I just told Coconut his gig is up!  So intuitive indeed.  They know how to work it!I watched them sensing you even before the session began.  Their ears were moving this way and that.  Licorice really zoned out and is now in a deep sleep.  And Coconut is back to work on me :)Thank you so much for checking Coconut out and for reassuring Licorice.  I will keep you posted.

Thanks again!