We received an email from the proud Auntie of Sam:
He is a Daschund (4 years old this year!) and for such a small dog, he has quite the large personality. He is very clever and I stated before he is a very loved dog. Sam is my sister's dog and she lives about 5 minutes away but he is over at my mom's house at lot, he loves his Nana and he stays at her house during the day while myself, my sister and mom are at work. We often say that my mom's house is Sam's happy place, he loves being here. Some of Sam's issues -He barks at other dogs and even when the dogs are trying to play with him, he wants nothing to do with it. His latest thing is he sometimes will try and nip at a dog who gets to close. With people, he is really all bark, he doesn't try to bite or anything but neither is he very friendly. It is odd because wherever he goes he gets all sorts of attention and people just love him.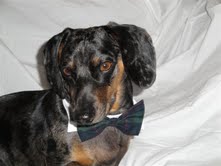 His latest thing has been wanting to go potty in the house, specifically his Nana's room. It started back in Dec when my mom had someone come over to clean the gutters at the house, we think he just got scared of someone being at the house when he was alone. However, he seemed to be ok for a little while but then he started doing it again last week. We are not sure what is going on.
As we connected with Sam, Sam started talking right away. Sam said
Sam will protect everyone Sam loves. Sam will keep all strangers and strange animals at bay. Sam wants Mom and Mom's whole family to be safe know it is Sam is the protector. yes, Sam eats others' food because Sam is being helpful. Sam knows it is hard for the cats to consume all the food they are given. Sometimes Sam just wants to eat it because Sam is a dog and it is a dog's nature to eat and eat and eat.

We told Sam that we know that he is afraid sometimes so we gave him some very strong protective angels to stay with him. They will be Sam's angels and will love and protect Sam. We told Sam that he could relax and no longer need to guard the family all the time because there will be angels there helping. We gave Sam mental healings to not be scared and also be calm when meeting new people.
We also sent Sam physical healing as well through out Sam's entire body. Archangel Raphael assisted us with the healing. White Spirit horse appeared as well and also gave Sam healing. It was wonderful to connect with Sam!
We heard back from Sam's Auntie:
I couldn't help but laugh when I read your first paragraph because it is so very Sam!! He is our little guard dog, never mind the size of the creature he is barking at! The cat food thing is very funny, I am sure the cats have an opinion about the….ahem….help. (another session for another time)   So wonderful about his Angels coming to him. Sometimes before I leave the house, I do ask AA Michael to watch over the house and animals but I do think Sam having his hown Angels will be very important to him. I was so incredibly touched to read White Horse spirit coming to Sam to help with his healing. I don't know much about spirit horses but do know that they have powerful medicine and I am so grateful White Horse came through for Sam.
Next day: Auntie said : Sam is doing fine. He seemed unusually calm and mellow last night. He was so relaxed. One thing that was interesting is that the postman came, he began to bark but he didn't continue to bark like he normally would. He calmed down faster than he normally does. After he barked I turned to look at him and he just looked at me and touch his little head and reminded him his angel were with him and he was safe, he just put his head down, sighed deeply and just relaxed. He still snatched the cat food but he only did it once! LOL!