We received an email about 3 kitties. This is about the first of the 3. This was an interesting request. Mom wanted to know which angel was around Madeline. Of course we all knew there were angels around Madeline, but is there a specific one when we leave our earthly bodies? We thought we would see what Madeline Rose would share with us.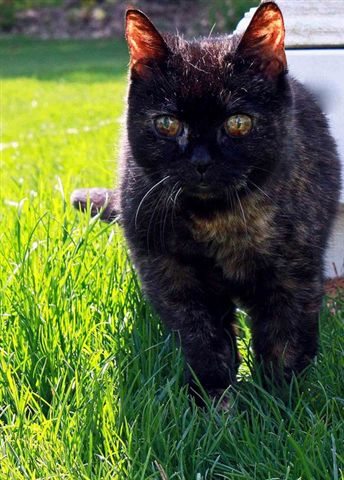 Madeline Rose came to me as a foster for the humane society, she was 16 and deathly ill when she arrived and as she healed she became a member of our family. She is a grand lady who has strong opinions and loves her food. Sadly, I lost her this summer when she got out into the garage by mistake and went out for a walk and got hit by a car.
As we connected with Madeline, there were many angels and cats around her. Madeline said Madeline is a spirit, Madeline is an angel cat. Madeline is with many other angels and spirit animals. Madeline does come to Mom often because Madeline is connected to Mom and also Madison and Keegan. Madeline often brings other angels and spirit animals on these "home visits". Madeline does like the freedom to roam all over in seconds! But Madeline does spend most of her time close to home. When we asked if there was a specific angel that was with Madeline, Madeline replied Madeline is the angel.
That sounds so much like Madeline! She always did like to roam and got frustrated when her body would keep her back. I am happy that she is so happy and brings spirits and angels on "home visits." Every one of light and love are welcome here. I am also glad that she has angels and others around her so she isn't alone. We did connect deeply for the short time she was here. Madeline declaring she is her own angel is so much like her too! She was always in charge and cheeky! Thank you so much for this time and the healing you share with the world.
We too enjoyed what Madeline Rose shared, yes, she IS the angel. No need to worry about her!