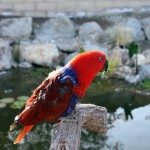 We finished this parrot's 15th Reiki session. She was singing and "oh so happy, oh so pretty". She's come A LONG way… from picking at herself and even taking on whatever tensions there were last year…so after this session, Candy said, why don't you suggest to the Mama maybe she should get just once a month sessions now.
After Dr Oz's show on Reiki, she wrote to me:
Yes, I would like to keep her at twice a month…she is looking fabulous! Her feathers are coming in fine… not much biting and chewing…I have to tell you a story about her that I forgot to tell you…On Monday, Dec 14th at about 4:30am…S (her husband) had gone hunting in Catalina for the weekend and was not home…I always run a fan at night, kind of like "white" noise it helps me sleep, but I also do not hear any noise beyond the fan…so I was deep in sleep and I heard Savannah squawk…her squawk is loud but with the fan I just barely heard it… so I dozed off again and heard her squawk again…this woke me up a little more…I began to think…why is she squawking…she never does that in the morning, only after we get up…while I was pondering this unusual behavior she squawked one more time…at that point I realized I heard very faintly someone moaning…I jumped up and went into my son's room and he had a burning fever and was in pain…remember I told you we went to the hospital all day? Well, if it wasn't for Savannah waking me up, I probably would not have gotten to him for at least another two hours…After giving my son some Motrin and making sure his fever had come down, I went right to Savannah to tell her how proud I was of her for warning me that something was wrong…and do you remember you told me on the 15th reiki that she said I was "proud" of her…well I think that is where it came from…I have been meaning to share this with you but forgot…cool huh…xxoo CB
During the Reiki session we do remember her saying, I'm so good…I'm so good…so we continue on twice a month giving healing to this beautiful bird.