Posted by Candy.
We are just coming in from our routine game of ball toss. Star, Kc, and Mom go out front in the street where I throw the ball and they run after it. The game is to bring it back to Mom and she will toss it out for us to run after again. This is # 1 in fun for my fur babies. Kc is the leader in this game and sister Star is catching up quickly.
For me to see how strong and agile Kc has grown is wonderful. He is a handsome boxer, who is still on the shy side. We do see him thriving with the love and care of his little sister Star. We would like to take a little credit too but truth be told he started to evolve once Star joined our family. They are never apart.
We are celebrating Kc's 3rd Birthday with so much love and joy filling all of our hearts. Just watching Kc everyday being a happy and healthy boxer boy is a blessing. After his rough and difficult beginning on the planet, it's nice to see him so happy in his home.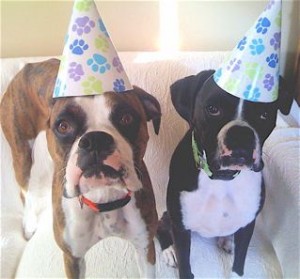 We all know it's Kc's Big day, but we all know his delight comes from the tiny furry, brindle girl boxer we rescued named Star. From the moment Kc and Star met, they connected and he went through a metamorphosis that put a light in his eyes. All his fears and doubts seem to melt away with her by his side. She protects him, mothers him, and plays with him all day, and through the night.
Watching their devotion for each other fills me such respect for my two fur babies. They have such admiration for each other that it infuses me with my own deep respect for them both. Our pets, and I believe the whole animal kingdom has so many valuable lesson to teach, if we are willing to pay attention.
My two sweet fur babies are wrapped in each others arms & legs while they sleep on the couch in my office. I'm busy with my blog to all of you, but I stop every few minutes to take a peek at them and smile. Aren't pets great!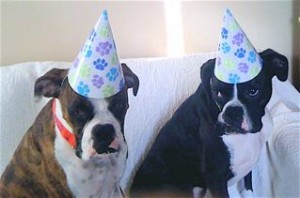 Finishing up my birthday tribute to my beautiful black and white boxer Kc, I'm a devoted Mom who delights in the pleasure of watching her boxers in the merriment of their lives. Time to play Kc's favorite game, after all it's his birthday so let's play ball…