Candy and I were talking at lunch today about the wonders of animals.  Every time an animal responds to the Reiki we are humbled. We are grateful and happy that the pet feels better,  their joints are better,  they can breathe better, they hurt less, they are less anxious and their aches and pains are gone. Animals respond so much faster to Reiki than humans do. They just don't have as much baggage. Sure, they too have had some horrific childhoods as we do. My very own Lucy, pembroke Corgi came from some terrifying situations as well, but she's quite well adjusted now and quite happy.  People describe Reiki as they feel some warmth, tingles, some kind of something.. many times pain is taken away and miracles occur.. but let me tell you no one describes the energy like an animal.
How do I know that? Because they told Janet Roper, animal communicator. Which is why we have teamed up to do Reiki Talk. Reiki Talk is a big thing, its an important thing. Its something that is important to the Universe. Your pet could be part of this.  Our pets are important to us of course, but have you ever considered your pet has a BIG purpose in life.  There may well be a very special plan for your pet.  For instance, if you follow our blog, you know who Sophie is.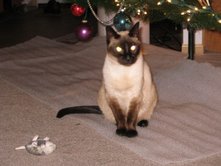 Sophie is a siamese cat that was a client of ours. She passed over and she told Bridget Pilloud, an animal communicator that God asked her to help US with our clients. To this day, Sophie helps us with our clients. She is a cat that heals.  I would not know this if she had not told an animal communicator this.
Reiki Talk is Reiki Fur Babies and Talk2TheAnimals with Janet Roper , Animal Communicator.  When she talked to a cat about Reiki, this cat said, "I purposefully channel the energy to go as it pleases me.  And I find that it pleases me to have start on my right side, and then cross over to my left side.  You are wondering if I feel incomplete that way, or unbalanced that way  but the answer is no.  This is the way it works for me, and this is the way I like it.  So that's the way I channel it.  You can compare it to when you get into water, you go a bit at a time, until you're all the way in.  I channel the energy a bit at a time starting on my right side until I am cloaked in it. The treatments are very positive, very gentle.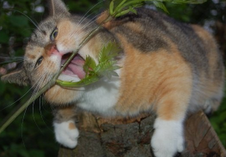 The treatments enhance who I am, so I can be my more natural self.  When the energy is encompassing my body, for me, it works that the old energy is displaced with the new.  That's why I am so often my natural self – because with all the reiki I receive, I very seldom have any old, stagnant energy within me.
Now, let me tell you.  Did you know that when reiki is placed out in the world, whoever is open to it can receive it?  That is a very well kept secret, but I am not letting the cat out of the bag when I say that.  Only people who are ready to hear that secret will hear it.  We animals already know it; it is not big deal to us."
When I read this, my jaw dropped. A cat said that.  Re-read that,  a cat said that. I have read that so many times. This is why we have Reiki Talk.
We Reiki your pet, have Janet interview your pet, you will be completely amazed at the wisdom and intuition that your pet has.