Here we go again..
Yip, whimper, moan, sniffle, ooh, oh my God what is that noise as I come out of the beginning of sleep? I wake up and it all comes back to me; Star and her brother Kc are unhappy with their sleeping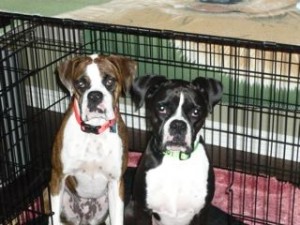 accommodations. They have the largest crate that is made for dogs. It is lined with a rug and a nice thick fur pad that covers the complete bottom floor of their crate. Each night they run up to bed, get into their crate, have a good night treat, and the crate is closed.  The crate is all open steel work and it sits 2-3 feet from me in bed. They can make eye contact with me, smell me, talk to me, etc.
This is not what my little fur babies want. They need to sleep in the big bed with Mom & Dad. This is where they become the 2 biggest bed hogs in the world. Wherever else they are sleeping, napping, or just resting they wrap them selves around each other. Star sleeps on top of Kc . No complaints! Why then when they jump into bed with us do they become 10 feet tall, and wide when stretching out. They only want to sleep on top of us. For my husband this does not seem to present too much of a problem. I am one of those people who likes things neat.  I like the sheets clean and changed every other day; pillow cases pressed, etc. I now realize so does Star and Kc.
So now I have the dogs in bed because I love them, and can't stand their crying; even though I know it's fake.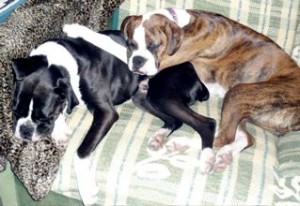 Now the little fur babies are sound asleep, and guess who is wide awake; yes that would be me. Cold, because Star is laying on the covers, and has pulled them off me. Worried because I am sure a blood clot is developing in my foot where Star is sleeping on top, with all 49 lbs.
Toss, and turn, all night while my two (3 counting my husband)  sleep so contently.
Every night  I have a new strategy on how to deal with my bed hogs. None have been successful to date.
I have tried separating them. My wonderful idea was to have Kc sleep with us one night, and Star the next. Seems like a fabulous, and workable solution. This works for 15 minutes or so before the dog left in the crate starts to howl like he/she is being tormented. Then the one in bed jumps up on me to get help for the sibling.
This is almost funny some nights, when sleep is not a priority. These sweet , wonderful fur babies are always making me aware of  how much I love them. Why else share my bed?