This sweet little cocker spaniel puppy named Charlotte gave us all an opportunity to be better, kinder, and more generous humans. We were not on a mission to rescue any fur babies. Our houses are full with very loved pets. Both Ming and I thrive on Reiki. We really love all the different animals we are blessed to be able to Reiki.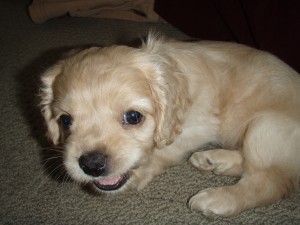 Things happen while we are living our lives. Mine came alone with my grand daughter and her best friend came into my office with the tiniest puppy I had ever seen away from its mother. Of course the puppy they are calling peanut is not staying here b/c it was given to my grand daughter's friend. I told them to get up and take this puppy outside to go potty. I got up from my desk to join them. As I'm observing the puppy I tell the girls her name is Charlotte. I did not give the puppy this name, this is her name. Her communication of this name was so strong, that it was something I could not mistake for anything but "my name is Charlotte."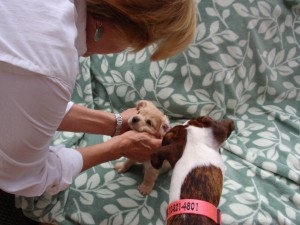 The girl that wanted to take the puppy home realized she would not be able too. O.K. what do we do now? The girls start calling all their friends to see who might want a cute puppy. No one does.  While all this is going on Charlotte makes another powerful connection to me. This is part of her journey to come find me, then Ming and Reiki fur babies. It is Friday night, maybe 5:30 or so by now. I call Ming to tell her I have to keep the puppy until a suitable home can be found, and I must take it to a veterinarian immediately. We agree to have Reiki fur babies donate the cost of the exam and any further medical expenses for Charlotte's care. We know this is the right thing to do.
The Vet tells me she is 4 weeks old, has worms (all puppies do) and is in good health. She is very young to be without her mother, and weighs 2lbs 4oz. I'm feeling better about taking her back to my home with my 2 beautiful boxer babies. I stop to buy some puppy food and come home. Charlotte is a very loved and lucky puppy. Ming gives Charlotte Reiki every chance she can.  When Ming first met her she was shaking so badly so Ming put her hands on her and did the Reiki. Charlotte became warm in minutes, the shaking stopped right away.
While I'm gone Ming has already been on Twitter, Face Book, the whole 9 yards to try and find Charlotte the home she came to us to find for her. During all this Ming's husband Mark pulls out the most adorable stuffed cocker spaniel puppy he had in box stored a way.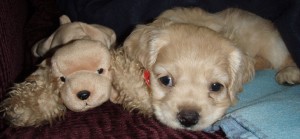 Mark had had 2 cocker spaniel dogs before. That's where the wonderful photo of Charlotte, and the stuffed dog come from-Mark. The puppy stayed over the weekend so they could honor some of their previous cockers.
Saturday, I start calling people who maybe possible parents to this little fur baby. Then Ming and I head out with Charlotte to make some house calls with her. Nothing seems to working in finding her a home. Later on Ming calls me and says someone from Texas is interesed, she's a fan on our Fan Page! www.facebook.com/reikifurbabies. Ming says, just talk to her you'll know right away. Carolee called and Ming was right. It is destiny for Carolee to have Charlotte.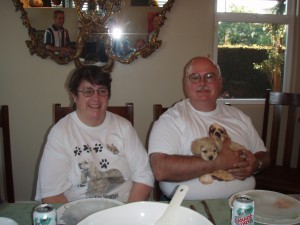 Kismet was the word that came to mind after talking to Carol and the more I hear what connection she has to this puppy.
In a few hours Carolee and her husband will be here to pick up the fur baby that always belong to them. It was such a privilege to be part of this process.