Its been a whirlwind of a weekend!! On Friday, Candy's grand daughter and friend came home with a puppy. We had never seen a puppy SO SMALL. They were given this puppy by someone on the boardwalk who was trying to sell it but the girls somehow managed to get her for free.  This puppy was 2lbs, 2oz. I had never seen a puppy cocker spaniel but you could tell right away by the ears.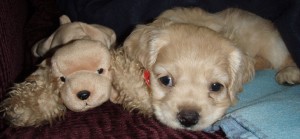 The girls had named her "Peanut" but Candy took one look at the puppy and said, no, her name is Charlotte. We all thought how wonderful, the name seems to suit her.  The puppy even came to that name! How wonderfully odd.  I thought how very cute, I played with her a little and was on my way home to take my hubby out for sushi.  But then I get a call from Candy. Can Reiki Fur Babies pay for a Vet bill for Charlotte? Huh? I thought, Reiki Fur Babies doesn't do rescues. Well, we never have.  I said, sure.  Candy wasn't sure she could get her into the Vet since it was after 5pm. I told her, take Charlotte in, the Vet will NOT turn this one down. Sure enough,  the Vet (awesome Vet by the way, called Bay Cities in Marina del Rey) did not turn her down. In fact, gave her a good bill of health and said she was 4 weeks old.  She said this puppy could NOT go to the pound, it wouldn't make it.  Candy wanted my hubby to take the puppy since he had cocker spaniels but we cannot take a 4th fur baby into our home.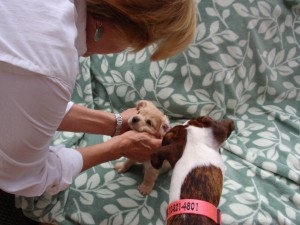 SO Candy does what Candy does. She loves.  I know she wasn't keeping the puppy but Candy is good at taking care of puppies.
That evening both of us made phone calls, sent text messages, sent emails out to all the people we knew to see if we could find Charlotte a home.  I gave her mini Reiki sessions as often as I could.  Charlotte was cold easily and one little Reiki session would heat up her body and she'd be fast asleep.  Candy took her to her coffee group, to here and there. We showed this little puppy off and everyone loved her but no one was suited for this little one. I told Candy we'd try our fan page and Twitter.
The fan page people are awesome. They are the most loving and supportive people.  They interact and support other people on the page. I love looking and seeing who gave a "thumbs up" and who commented. I'm always so touched when I see someone else support someone else with their pet.  This was social media at its best. Within minutes, we found someone so interested.  I called Candy, I think we found someone.  She's willing to drive from Texas to Los Angeles.  Candy talked to Charlotte's new Mama and told me there was no doubt Charlotte belonged to this family.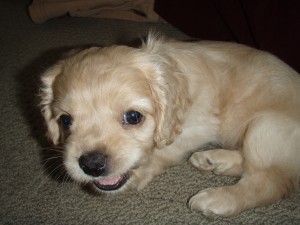 We were all talking this weekend about what a blessing this little dog is. She will have a wonderful home and life.
We are very excited to meet Charlotte's new parents!