Mochi was actually the first I had participate in Reiki Talk. For several reasons actually.  She's the oldest pet in the home and also the one that gets the least amount of Reiki sessions. She's my "no drama" CAT.  She is very vocal but she's never been sick. She's my happy girl and is so tolerant of the dogs. I love her so much.  So I wanted to know how she felt about the Reiki. I was doing a Reiki session on a dog this morning and she ran over and decided to participate in it as well. I figured she must have needed some of the energy.  She meowed and went running off when I was finished.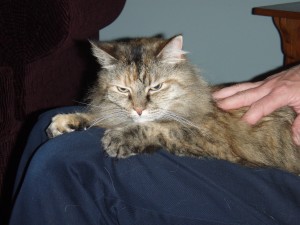 So here is what she said to Janet :
M: Oh, it is so good.  I am soooo used to it, maybe I cannot feel it like others do!  My reiki treatment is a part of me, a part of me.  I stretch and it goes with me.  I sleep and it stays with me.  (sighs, purrs, figure 8s) I do not know what it feels like anymore to not receive my treatments! (From what she is saying, I am perceiving that the reiki treatment is a constant for her, like it has built up in her body and is constantly around her, within her.  So, even if she is not receiving a treatment, she is receiving the benefits, effects of her treatments)
M:  I will correct you on that! You almost have it right, because it is around me all the time, but it is around me all the time because that is what Mama and Auntie do.  So even when they are working on other cats, my body takes it in because it is so used to receiving it!
JR:  Thanks, Mochi, for correcting me.  How do the treatments affect you?
M:  Very nicely thank you, (NOTE, here her energy seemed to spike up a little).  It is a warm gentle blanket that surrounds me at all times, very comforting, ahhhhhhh…..
JR: What do you think about future treatments?
M:  I will get them of course!  I like the way they make me feel! (stretches & purrs).  I feel VERY luxurious after my treatments and I know my mama would not deny me that!