I know by experience that when we send Reiki to a cat for example, many times other cats in the family will come around and lay down.  They are receiving the Reiki too.  When Candy and I do a Reiki session her Boxers always come in the room, they immediately lay down.  When I send Reiki from my home, Sammy, Lucy and Mochi all come around. I often wondered the "details" of that meaning do they get the healing, do they know the energy is there? The answer is yes. But when we interviewed Shiloh the horse and he said that the entire barn got the energy, I was like WHOA!! I get feed back a lot from people that if they are near the pet when we send them Reiki they too (the person) feels the energy as well. That is so awesome.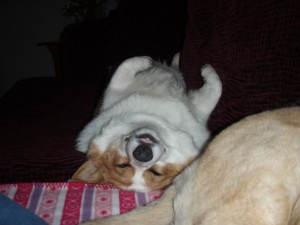 Since the emergence of Reiki Talk I asked Janet to ask my Corgi how she feels about the Reiki. She has been getting the sessions the most lately. She too has terrible allergies and many times she cannot sleep. So I grab her and give her a hands on Reiki session and she sleeps like a baby. Its a mother's instinct, if I hear her in the middle of the night scratching, I grab her and start right away.  Well, she told Janet this : "It's like twinkling stars are fallign on me! I receive it differently at different times. It depends on my needs and it depends on if I am receiving the Reiki directly or if its deflected to me from another energy Mama and Auntie are working on.  When they are working on another's energy, I feel the energy the same way the other creature is feeling. While it's still good energy and healing its not as delighful as when I get my OWN treatments."
Truly awesome to hear that Lucy is getting so much help from the Reiki!