Horse we interviewed:
Even the title of this blog is awesome. How often in one's life do you think we could get to interview a horse that we gave a Reiki session to. In all honesty, I never even thought about it until this horse's Mama suggested it. You know me and animal communicators! They are awesome! So we were able to set it up with Janet Roper. This was her horse that we had the honor to Reiki!

When we did the Reiki session on this horse we were told he was lame and could not walk. There was pain in his leg.  We did the session and the energy flowed. We heard later that in less than 24hrs he could walk and was 85% better. What thrills we felt again! Candy and I are always amazed at the healing energy. We are always in awe and humbled. When we hear back we are feel blessed as well hearing the energy has helped the animal/pet.
Janet said when she saw her horse a few days later  he stumbled as if he just had sea legs but then he was great! So our question to Shiloh the horse was what did the Reiki feel like to him? He said it was a golden light in a triangle coming to him in 3-D. He felt it and it traveled up his body (hip, feet, hock). He felt tingles and they were "good tingles".  We asked him, how did you know that "we were there". Shiloh answered I would have to be very silly to not know you were there.  Humans are so ignorant.  Horses are much more intuitive and I am also a teacher.  He said, how could I not know and the horses all around me knew and respect what we had done.
I was like whoa, wait a minute. What? I was still processings his answer of "how silly we were to ask…" laughing to myself… but then I said, do you horses talk about what happened or do you just know? He said they all just know. Horses are sensitive and have a much higher intuition.  SO then Janet tells us there are 30 horses and she too had noticed that the barn was quieter since the Reiki.  The horses all felt the energy as well. The horses all said they respect what we have done. We said WOW!!
Shiloh said he has gotten healing from the other horses but never a human. He said he liked the word "Reiki". He also said that he didn't know where or what California is but he knew it was far from his barn.  He knew the energy went up to a star and back down in a trajectory like fashion.
When asked if he wanted a second session he began to tell us his right side of his neck hurt, then his left side. Also his teeth on the right side. He ended up with sending energy to his tail. We laughed and took that as just Reiki me everywhere!!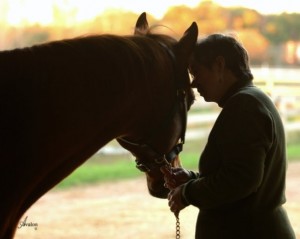 Since this interview, for me personally I have an even stronger sense and purpose of helping these animals.  I thank God and the Universe for the gift of Reiki . I thank Janet Roper and Shiloh for the wonderful gift of sharing.
I'm sure this won't be the last time Shiloh receives Reiki.
(I know Janet will also be posting the interview on her blog, I'll put a link once its up so you all can read hers! it will be from her perspective!)