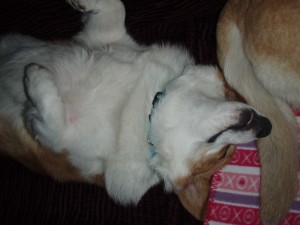 I have to tell you about my other dog Lucy. She's the spunkiest and the wildest little dog there is. She is a herder by nature and guess who she herds down the stairs every morning and every night? Me!! She even tries to nip at my heels to get me to go faster. Its a wonder Mama does not fall down the stairs!! She is barking with glee the whole way down and then runs her 8 pattern around the living room barking and jumping back and forth. Lucy makes us laugh so much!! She hears the word "bird" and looks out the sliding door and says, Mama, let me out!! She will run along the side of the wall and bark and chase them out of the bushes.  She is a solid 4 years old as her birthday will not be until December. She's Daddy's girl and loves her Daddy so much. But she does need Mama. Why? well, she knows Mama can reiki her.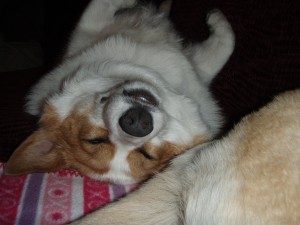 And Lucy loves reiki. Why? it calms her, it soothes her and it helps with the itchies. She has the worst allergies, she sounds like a little poor baby with her sneezing and runny eyes and then the biting of the paws. But reiki helps and she loves it. We've actually started to up the sessions and that helps. As I have said in the What is Reiki blogs, the more reiki you get the better you feel. Its healing energy, so of course that would be true. In fact many of our clients are coming back for more sessions.
Each night the family all gets together.  I may be on Twitter for awhile (check us out @reikifurbabies) but then we do spend time. Sammy Diva gets reiki for her hips. But after Sammy is done, Lucy is next. And I've been focusing on Lucy more the last month as Sammy Diva's hips are doing well!
The advantage of having Mama as a reiki pet practioner, Lucy can get reiki every day!