I just had the greatest day. Why? Because I got feedback on a dog that we sent reiki to twice. This dog is an older golden retriever. A dog that was rescued and is being fostered by a giving and loving person. This golden was not smiling and not happy. She would not move off her bed. She was being leashed to go out to pee.  She was definitely unhappy and in pain. A story about a foster golden retriever is saved.
We were called upon to give her physical but even mostly mental healings. Upon our first session with her all we heard was "sighs" and feelings of pure exhaustion. Well, of course, who knows what kind of journey she had been on. We sent her healings to her hips and assured her with love and healing energy.
That night after the session, foster Mama said she heard the clicking of nails, the golden came in the room!! Then the next day the foster Mama sent us a picture of the dog on her back in the grass with her legs up in the air HAPPY!!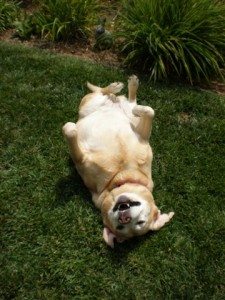 I love it when my lab does that. Puts a huge grin on my face everytime!
The foster Mama told me she got 3 kisses and even a smile. I thought to myself how wonderful that a dog could smile for the first time. It not only warmed my heart but got me very excited. Later on Mama told us the Vet wanted to euthanize her, she had a torn ACL and was overweight! This is why shelter/rescues put dogs down? I don't understand. I am unsure of how these rescue groups work but I was in tears. The dog just smiled for the first time and they want to put her down?! The foster Mama had us reiki her again last night. This time we concentrated almost fully on physical healing. You know what I heard today? The dog ran up and down the stairs twice! Now, is that music to a reiki practitioner's ears. Maybe we even saved a life.
Addendum: April 20th: after 3 reiki sessions, Mama says Sydney is RUNNING, bounding down the stairs if not up and RUNS out the door!!!!! I am absolutely thrilled. The power of reiki!