(Let's start the new year off with a contributing blogger, my hub Mark, maybe from time to time, he'll write again!)
In trying to wrap up some work projects before the end of the year I have been working some late late hours in December. Well, Lucy didn't take too kindly to having daddy gone so much in the evenings. I would get home at 3:00 am and sleep in the guest room so not to wake my girls. From prior experience Lucy would get very anxious wondering where daddy was and then why he wasn't sleeping with her and mommy. We think she thought we must have been fighting or something. When it came time for me to do some late nights again Ming and I came up with a new plan. She would let Lucy sleep on the floor in the bedroom and leave the door ajar. When I came home Lucy would be free to leave the room to see me and I wouldn't have to wake up Ming or Sammy. We also agreed that she would then sleep with me after I came home. Well, after my next late night at work I came home and when I opened the door for the garage Lucy was there to greet me like she always did. This was quite a surprise at 3 in the morning! I expected her to be sound asleep but when she heard the garage door opening she new it must be daddy coming home and had to come down. From there we went right upstairs and into bed. Lucy laid right down on the bed and went to sleep content that daddy was there.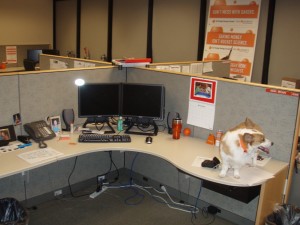 The next week I had to go back to work for a few hours to wrap up a project. Since it was only for a few hours and I new Lucy was so easy going I decided it was time for a road trip! That's right; Lucy was going to daddy's work. As expected Lucy had a blast exploring everything. From the moment we entered the building she ran right up to the security guards to say hi. She had lots of pets and rubs. From there it was off to her next adventure – the elevator! She was a little hesitant to go in initially as she was wary of the small gap between the floor and the elevator but after some coaxing she bounded right in. When I arrived on my floor she wanted to explore everything. I went to our computer room to do my work and I left the door ajar so Lucy could see me and know where I was. I was busy doing what I needed to do and Lucy went exploring. When I couldn't see her all I had to do is call her name and she would come running back to me. When I was done I went looking for her. I found her making friends with the cleaning staff who were eating in the break room. Lucy just loves people!
Another quick elevator ride to get back to my desk. Lucy being the curious pup she is was checking out daddy's work. She even had to get on my desk to see exactly what I was up to!
When dad was done we rode the elevator back down to the car and went home to Mom and Sammy, Lucy content to be back home with the family.