(To read in Spanish click here ) This is a testimonial where we were able to receive before and after pictures.  This golden received two kinds of healings during each session. She received mental healings and physical healings. Sydney received 3 reiki sessions total thusfar. Jeannette even made us an hour long movie of how Sydney has just flourished! This just makes our heart so warm and full of gratitude! A Golden Retriever Foster Transformed by Reiki!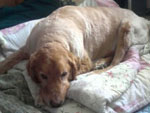 We were asked to send reiki to a golden retriever that is being fostered.  Here is what Jeanette said,
Sydney is my foster, dropped off at Humane Society with a variety of problems that just got worse while at the shelter. 40+ pounds overweight; two infected front legs, elbows oozing pus (vet thought from a lifetime on cement); a torn ACL in her back leg; kennel cough; a matted coat that also hindered movement; no wonder she didn't want to move.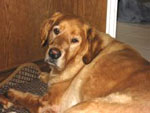 But beyond that, she also seemed like she'd lost her will to live. It was sad. Really sad.
(Normally when we bust a dog out of the shelter they're overwhelmed with gratitude & joy. Sydney wasn't. Not only no tail wags or smiles, she wouldn't even lift her head.)
Upon our first session with her all we heard was "sighs" and feelings of pure exhaustion. Well, of course, who knows what kind of journey she had been on. We sent her healings to her hips and assured her with love and healing energy.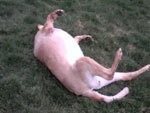 That night after the session, foster Mama said she heard the clicking of nails, the golden came in the room!! Then the next day the foster Mama sent us a picture of the dog on her back in the grass with her legs up in the air- second reiki session, now she goes up and down the stairs like she owns the place. !! She followed me up 13 STAIRS!! In the beginning I couldn't ven get that girl to STAND let alone do the stairs.
Sunday morning I let her for a potty break then went back to bed, she followed me and laid next to the bed while we slept in. In those few hours I got the most restful sleep I've had in months. MONTHS! And I woke up with a sense of peace that was … well, odd. Not that I'm a stranger to peaceful feelings, but I never felt anything like this before. It was really weird. First time I'd felt anything like it.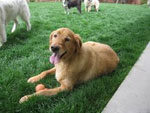 I wondered if Sydney had some leftover energy from Candy & Ming flowing that I was picking up on?
Whatever it was, I can't wait to do it again. She sleeps with me from now on.
Thanks, Candy and Ming, for bringing this dog back to life. I think many people will benefit from it, let alone Sydney herself.  (Sydney has since come down to 108lbs as well and happy as ever!)
Jeannette, Utah
For Many More Testimonials please click here! https://reikifurbabies.com/index.php/category/testimonials/
If you want to just see testimonials about a certain animal only see categories on front page!