Back in August we had done a session for Georgia. We weren't sure if she was ready to transition. This is what she shared with us. We have received 2 updates since!!
Georgia said Georgia is filled with gratitude because Georgia's Mom is so aware of what Georgia needs. Georgia's soul is up and soaring. Yes, Georgia's body is not functioning to support Georgia. Georgia and Mom are so connected that Mom can feel the pain Georgia is having. Georgia knows Mom will not let Georgia suffer. Mom has ALWAYS loved and cared for Georgia with only kindness. Georgia has had the BEST life with Mom. Mom always does what is best with confidence. Dr Vet? Surgery? Mom just love Georgia good bye. Georgia will never leave you. Georgia and Mom's souls are connected FOREVER- the sadness is filling Mom's heart . Georgia only wants Mom to feel the love and joy of all of Mom's memories of Georgia. Mom what matters to Georgia is that Mom listens to Mom's heart. Georgia will know this in Georgia's heart too.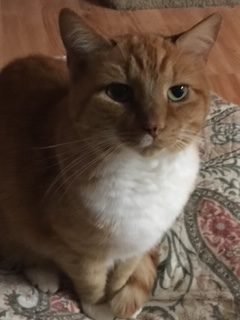 Georgia seems to be doing well. Her meds are keeping her comfortable enough to eat without pain. She is maintaining her weight too. I'm so happy the session with you turned her around. Thank you so much for checking on her. 
Hi Ming,
I wanted to update you on Georgia. She is doing very well.  I took her to the vet and we have found a pain med that she will let me give her. She is eating like normal without pain. The past two mornings I have left her sleeping belly up in total bliss. I know it was her session with you that turned her around-thank you!❤️