We have learned so much over the years from feral cats. They are certainly consistent with their message.
These 3 were going to undergo a change as one of their humans is moving away.
Here's what each one shared: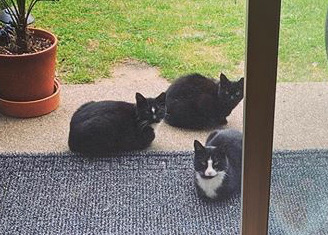 Brownie said Brownie, Nibz and Bumpy Cake  know there is a change coming. Lots of emotions are flying around. Change will be annoying for Brownie, Nibz and Bumpy Cake. What the specific effects will be are the unknown. Brownie is glad to hear that K will not just vanish because love and trust took time to build. Brownie NIbz and bumpy cake need to have meals served by other caring humans. Adjusting will take some time for Brownie. Let's gather sometime . it's diffcult when Brownie has to learn to rely on K and now needs to readjust. 
Nibz said most of Nibz day is spent retrieving food from the kind humans who have cared for Nibz and other cats. Nibz just wants to give gratitude for the food and extra that have allowed Nibz to live the life that Nibz wants and needs. No way to prevent the feelings of loss when K moves away. Nibz may hide away for a little while then the need to eat and survive will take over and Nibz wills tay part of the trio of needy ferals. Nibz will look for K when K visits.
Bumpy Cake said K needs to move on . Yes, we are aware of the changes coming. Without this reminder Bumpy Cake knows K will miss Bumpy Cake too. Bumpy Cake likes the habit of running over to Kelly's with the gang and being greeted with food and nutrituion and caring. Bumpy Cake never felt in danger with K. Just to be able to stay free to roam and return is such a gift. No strings were ever attached to the love and kindness K gave. Message received K be free like Bumpy Cake to roam wherever K needs to roam. Bumpy Cake will see K sometime soon.