For those of you that have been following the Coco stories all these years – know that Coco has transitioned.  Perhaps Coco brought Sassy to Mom .  Sassy can see Coco's spirit which is very cool.
When we tuned into Sassy and sent her Reiki this is what she shared: She is only 10.5lbs but fitting with her name.  I think we'll get more stories from Sassy in the next few months!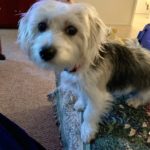 Sassy said Sassy tries to feel safes always. Sassy is the most happy with Mom and Coco. Yes, Sassy sees Coco's spirit whenever Mom is present. Sassy will gain more confidence and resilience . Coco really really likes Sassy. Sassy's imperfections are the parts that make Sassy sassy / Sassy likes taking Mom on walks but Mom needs help to stay on the positive path. Sassy can always see the light to follow. Sassy likes Sassy's guardian angel a lot. Lot of spirit and joy around.