Let's definitely get my old girl Kona set up for Reiki. She's my 8 year old boxer who's had some health issues in the past. She's doing great now but does get pain in her back disc from a slip she had two years ago. I would like to see what's up with that and I know she has some jealousy issues with Willow right now  
(If you remember Willow – you can click on the link above on what she shared about  being in her forever home)
When we sent Kona reiki and tuned into her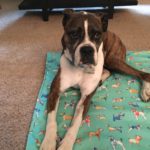 Kona said: Kona does not want to disappear because Mom needed another baby, puppy, dog Willow. Kona wants Mom to remember Kona was once precious to Mom. Kona wants to be seen and acknowledge Kona's existence . Yes Kona is a little needy but it's all a matter of perspective . Kona may suggest some ALONE time with Mom and Dad. Just time to feel the love and attention blanket Kona. Of course this will be needed on a regular basis. Kona is grateful that Kona now has a guardian angel that will be and surround Kin with love love love love. Kona says thank you.
Thanks Ming! Just got Kona's report, once again WOW! 
We had just mentioned a few days ago that we thought it might be a good idea to start bringing Kona into work a few days a week. She loves alone time with us and likes to feel special, we will make sure we step it up for her. She means the world to us…thank you!!