This session is for my cat Cindy. She's 13 yrs old. In the middle of the night she seemed to be in a lot of pain

. I'm in New York and even though we have had mild temperatures lately, yesterday was pretty cold. A couple of months ago when it was very cold she had trouble jumping and it seemed like arthritis but it went away quickly and I always cover her up with a blanket when she sleeps and she likes it. 

She is scheduled for a check up in March and I was going to discuss that issue with her doctor. 
What I would like to ask Cindy is:
What hurts? Does she know how this happened if she fell? How is she feeling now? Does she know that I love her more than anything and I will do anything for her if it's in my power? What can I do to help her and keep her more comfortable until we can see the vet?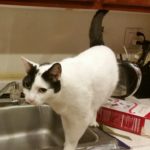 Connecting to Cindy: she shared:
Cindy said Cindy does not know why Cindy hurts. Cindy doesn't recall a fall. (Pain is non specific) Cindy wants to have the ability to rise to any occasion without the worry of pain. Cindy feels exhausted from this change within. Cindy's body is a machine which winds its own wings. Cindy is living inside because Cindy's soul is flying pain free. Cindy tries to take time to stay calm and rest because the body Cindy inhabits maybe broken , damaged. Time to look into all this. …  The guardian angel Mom brought Cindy is so nice. the angel is surrounding Cindy with love and kindness just like Mom when Mom is here. 
After the Reiki session we heard back from Mom :
Thank you very much for the Reiki session. Cindy had diarrhea in the evening  yesterday and just wanted to sleep. Bur this morning she was feeling way better, almost normal I would say. She was meowing at my bedroom door this morning, played with her toys for little bit and then jumped on the counter for her breakfast.  I have a check up appointment for her tomorrow afternoon.
After visiting the Vet: 
He didn't find anything wrong with her legs and nothing wrong when he performed the exam. Cindy has recovered pretty well but she still threw up one more time this morning so he suspects a virus or something that she ate. He gave her an anti-nausea injection and gave me pills for nausea to give her for the next 4 days and we will have the results of the blood work and urinalysis in a day or two. I also got a supplement for her joints. 
I mentioned to the vet that Cindy got a Reiki session and of course he doesn't believe in it even though one of the technicians do. On Sunday after the Reiki session when I got home from work Cindy seemed way better than a few hours earlier and I truly believe that the session helped her to overcome whatever it is that it was bothering her.
Thank you for following up. That's very sweet of you! 🙂