Amadeus has a lump on his right side which has been steadily growing. The vet suspects Vaccine Induced Sarcoma – malignant tumor and has recommended a surgery as soon as possible. Surgery is due on Friday, 22nd December (9 AM India time). Amadeus however is showing no signs of pain or discomfort, seems quite happy and content.  He has however been losing weight.
During Amadeus' Reiki session he shared with us: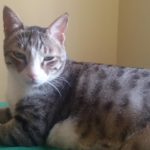 Amadeus said Amadeus does listen to all the sounds messages coming from outside and those inside too. Amadeus knows this body that Amadeus soul is residing in has some problems.  The Vet doctor will take a look and well that part is out of Amadeus' hands so to say. Amadeus has a life of both quantity and quality and Amadeus feels so much gratitude for all the love and kindness that is Amadeus' home and family. Amadeus is not attached to this tumor. Whatever it is. Amadeus feels very calm and peaceful for its all good for Amadeus. 
We heard back from Mom:
Amadeus does seem to be at peace right now
Reiki Session post surgery next up!