This is Mr. Watson.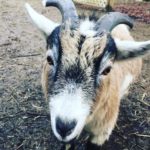 I only really have one question for him other than that i just kind of want to hear what he has to say.
Q- why are you always picking on Spencer? (Brother goat)
Goats have their own special energy. We had tuned into Fuzzy the goat a few years back. SO we were excited to talk to Watson and send him healing energy as well. We heard that goats like to be with other goats so they don't get lonely or depressed. Watson had 2 brothers, Spencer and Burton with Sherlock transitioned a year ago.
Connecting to Watson was so fun. He certainly did have something to say.
Watson said Watson sometimes wants EVERYONE to see how big , powerful , brave and strong Watson is. With Spencer this is not obvious to Spencer so Watson needs to demonstrate this. Watson is not really wanting to be mean. Just wanting to get a little respect.  Watson of course LOVES Spencer and Burton and even the spirit of Sherlock. Thank you Mom . oh wow oh wow Watson has a really big and amazing guardian angel and then you see another guardian angel with Spencer and then another one with Burton. They are surrounding everyone !!! This feels so good.  Ok. Watson will behave .. busted. The message is out now. 
Then Mom sent us this video!