After having sessions for Riddick and Fiona,  Mom said Luna was awaiting her turn.  Sure enough, Luna was waiting.  So we sent her a wellness session. You don't always have to have an issue to receive Reiki. In fact, its a good thing to receive Reiki as it works exponentially .
When we sent Reiki to Luna- she shared: we were very impressed with how she worded things. Wise soul this dog is!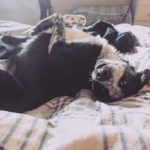 Luna said Luna has been waiting for this Reiki energy healing to arrive. Luna will savor all these delightful sensations all day long. Luna feels the expansion with his Reiki healing energy. WOW now this is wonderful . This Reiki healing energy is inspirational for Luna. Mom is always bringing these lovely experiences to everyone . This is a pause in Luna's every day life and a shower of loving drops are falling on Luna. Pretty spectacular . Then Mom sends Luna an archangel who surrounds Luna with more love and kindness . Luna is feeling peace joy from all of this . Mom ROCKS!