She's my little 3-legged spitfire.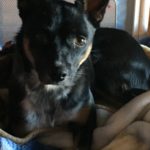 The rescue I've fostered for rescued her from the shelter where she was dumped pretty much after she was born. She was about a year when rescued. So she's about 2 now is my guess. 
She's a sweet girl but has issues jumping & nipping. Not with aggression just hyper. She overwhelms Kellan with the jumping. She's about 25 lbs.
We had a hiccup when I was asked to foster a Manchester terrier who was awful to Jewel & would not let her near me so she started pottying in the house & exhibiting very unwanted behaviors. Her confidence is gradually returning, although she's recently decided that going outside in the middle of the night & barking her head off is necessary & she's become very destructive with pillows, blankets & shoes if she can get hold of them. She didn't really do this before the foster
At the end of the week of class, Candy chatted with Jewel:
Jewel said Jewel thinks of everything over and over. Jewel has been starting slowly.  Jewel has some goals but the reiki healing energy is serious work to Jewel.  Jewel works on Mom, the house, the furniture , the rugs, the floors , the pillows, the food. Everything. Slowly learning – healing – helping. Jewel finds this helps grow and ground and calm Jewel also.
From Mom: I knew when Candy was interviewing because Jewel disappeared under the bed. That's where she seems to go to reflect & chill. I also knew when the interview was done because she came out to the living room & climbed up into my lap for a belly rub.
A few days after  we had a Reiki session for Jewel to help with her self confidence :
Jewel said Jewel needs the Archangels to help feel strong and Mom too. Jewel just feels so much more power with all these angels helping NOW. Now this is for REAL. Jewel having the erchangels make things come together and validate the Reiki healing energy Jewel is doing . They seem to be powerful but encouraging Jewel which gies Jewel even more meaning. Jewel sees things with new eyes because Jewel is part of a team. A most powerful incredible team. Team Jewel !!!!!
From Mom:
Every so often Jewel would come get close to me
On the couch & in my fog I could feel the Reiki
Flowing so I know she was trying to do healing on
Me.