Hello everyone, I have been super busy lately but I finally found some time to do another blog for you guys! If you haven't checked out my other blogs you should also comment what you think I love hearing what you guys have to say!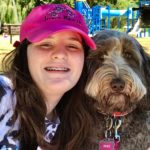 Alright let's get started- so the 1st thing is I have been seeing angel dogs. My neighbor's dog past away last year due to cancer. It was so cool to see him again and he is a spirt animal for the dog next store that is lonely who needed a friend and some guidance. He said it was perfect being right next door to me and so close to home. He's such a good dog and we can talk anytime now!
Another dog I have been seeing is Ming's Sammy Diva- a yellow lab! She's a wonderful dog with a lot of love she teaches me new things every day!
As for my spirt animals  Kennai, Jade and Jedi are doing wonderful and have been helping me everyday! Also my dragons Fireball and Doremus are doing great and also helping me!
Here's some great and awesome news! I now can see archangels too!!! First I saw purple and it was Zadkiel he is the leader then the next night I saw pink and green pink and blue green Raphael pink is Chamuel and blue is Michael. They are here to assist me when I need them my team keeps growing that's for sure!!!
Also been doing Reiki to my neighbor puppy that got neutered. I did Reiki before and after his surgery. He did great he was delayed a little with healing though because he picked at his stitches and a blood vessel burst open and he bled but he's fine now. I did lots of Reiki on him pretty much every night! Well that's all I have for now thank you for reading and comment below what you think!