Lola was wonderful to attune to Reiki , she is such a loving soul!
born: 7/21/2008
age: 7 years
Rescue Dog
Lola's mom and all puppies where pulled by a rescue group from the shelter 1 day after they were born and were placed in foster care
After the attunement, Lola shared her thoughts: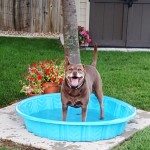 Lola said Lola feels all this energy work has infused Lola with lots of "puppy" excitement energy. All the tension is released and Lola can flex , not just Lola's body but Lola's mind and soul. This feels so peaceful within for Lola. Lola enjoys every moment in a way that allows Lola to savor moments with Mom , then Jax, then Macy., then Lola's guardian angel, then all the archangels. Then the ball, then the treats, it's all so good and now even better for lola!
After connecting with Lola, Mom said: It is fun to see her so excessively energetic again. Keeps me moving. I have been playing with Lola and Macy & Jax since about 4/4:30 this afternoon!!! We play every night. If it is too hot/cold/wet outside we play in our basement – but most of the time we play outside if possible (my backyard with my dogs is my favorite place in the world). We play to get the puppy crazy energy out. It doesn't normally take too much with Jax & Macy, but Lola is a high energy dog – but with that being said she has mellowed some with age. Tonight we played outside for quite a while then it got dark so we went inside for treats – and that is typically where the dogs are done playing. Not tonight – after treats Lola stood at the top of the basement stairs coaxing me to go downstairs to play – so we did. We played ball for quite a while (my basement is finished but I only have a chair, TV and dog toys – so it is great to chase a ball around and play). After a while I thought it is probably potty time so headed upstairs for the dogs to go outside. i thought okay – play time is probably done – I can pour a glass of wine and veg a bit in front of the TV. Nope. As soon as they came back in Lola went right back downstairs and wanted to play some more! She has not been this energetic for quite some time. Then it occurred to me…it's the Reiki!