Our very first connection to a snake. I have to admit I was excited. All creatures have a different energy to them just as we people do.   So to send healing to Chevy was going to be fun and I was curious to see what he would say.
He belonged to our client's daughter. I loved hearing the connection between them actually. She told me that Chevy got out once and they were frantically looking for him as he cannot be cold for long. They found him in a warm spot, and the daughter quickly put him next to her body for warmth. Now that is love! I could tell just from hearing about Chevy that there is a definite soul connection between them. I knew it would shine through during his session. They said he hadn't been eating for several weeks and he had also moved positions so they wanted to know why.
When we connected to him, he shared: We love that he told a joke! He's funny. He made us laugh and he is certainly a very happy snake.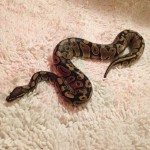 Chevy said in answer to your questions, Chevy likes sleeping under the towel blanket now because it allows Chevy a peaceful rest .Chevy eats when Chevy feels hunger. Chevy is a snake not a human who needs to eat to survive. Chevy's metabolism is different and works this way for Chevy. Chevy has innate powers of understanding this is the way "Chevy Runs- " (get it, he says a funny!) – works – lives in the world. Chevy is comfortable and happy in Chevy's home . Chevy feels the connection with M and Chevy knows Chevy is loved Chevy likes this guardian angel that is here surrounding Chevy with so much kindness , always. Chevy likes all of this.