When we had attuned Cherry to Reiki: this is what he shared: Cherry said Cherry realizes now some of us make our own limitations through self doubt, fear and just wanting to fit in. Empower yourself is the feeling I received during my attunement. Cherry was aware of Coconut and Licorice during my practice sessions. They wanted to feel my degree of reiki energy healing. Coconut was the most surprised by Cherry's potential to heal. For those cats its all a contest, they need to put things in perspective and understand Cherry's confidence comes from newness. Coconut just tries to hide away but Cherry is able to send Cherry's powerful healing to Coconut wherever Coconut is. Licorice gets doses of Cherry's love too. – See more at: https://reikifurbabies.com/2013/10/06/reiki-attunement-cherry-betta-fish/#sthash.r7407v0m.dpuf
Cherry lived with 2 cats named Coconut and Licorice.
Lovely Cherry, his time had come to transition. Sweet soul that he is.
As we connected with Cherry I saw a little red dragon.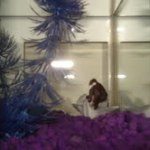 Cherry shared:
Cherry said Cherry is swimming outside the bowl in the Universe! and very close to you Mom. Amazing, peaceful leaving here for another more beautiful endless space. Yes, Cherry is near and Licorice and Coconut can see Cherry too. What a wonderful freedom. Cherry feels empowered!
I called him the little red dragon. What a fierce and happy soul he is now. We send him and his family love.