This session was to give this beautiful yellow lab the great news that he was now in his forever home! What fun this would be and give him healing as well. The new family wanted to know if there was anything Flash wanted to share with the family.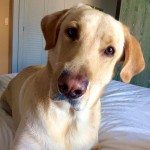 Here's what Flash shared: he mentioned the little girl in the family.
Flash said Flash never stopped hope from coming in. Flash only can surrender to this wonderful feeling of being loved. A forever home, Flash has come home. No more dark sad times for Flash because of sweet happy "J" A girl for Flash to love and be best friends forever. Flash feels so good deep within. Now Flash has a guardian angel because someone loves Flash. How good this is for Flash. Now Flash can breathe in love and relax from the struggles. Flash is forever grateful for your kindness.