We have a lovely post by Reiki Fur Babies' Reiki Master Diana Tootell!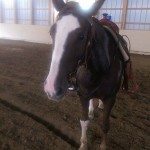 Today was a perfect day! Every ride is perfect in it's own special way. There was something about today though…I rode both Willow and Gracie. They both surpassed our goals. Both rides were easy, light, soft, and full of joy. I could feel the joy and the pride each one felt because they knew they were perfect rides too. I know them and they know me so well that connecting with each one is natural. I feel the Love of God through my horses. I feel His blessings and graces being showered upon me when I ride.
Life has its hurdles and difficulties….God gave me these amazing animals and this small piece of Heaven that I can experience any time I choose to ride.   As I ride the Reiki flows freely frrom me to Willow and Grace and Grace and Willow are both attuned so they send it back to me.Amen!